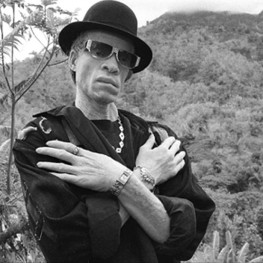 With 70 plus albums, numerous worldwide hits, a place in the Guinness book of records, a survivor of cancer and at one time the second biggest reggae artist since Bob Marley, King Yellowman is an inspiration and idol to many.
Yellowman's journey has taken him from rags to riches, from rejection to celebration, establishing him as an internationally recognised artist, whilst simultaneously challenging the stigmatism of being an albino in Jamaican society.
Winston Foster, AKA Yellowman, was born in 1956. Abandoned by his family and left in a bin outside the Maxfield Home orphanage in Kingston, Yellowman faced immense hardship. At the time Jamaican society thought it impossible for an albino, 'dundus', to succeed. Despite this, by the late 1970's he was performing with the Ace Sound System.
Although he was talented, studios closed their doors to him believing it was impossible for an albino to succeed in the music business. However, he was determined and the tide turned after he won a talent contest at Tastee Patties in Kingston in 1978. He then began making hit after hit, working alongside legends such as Henry "Junjo" Lawes from Volcano and Joseph 'Jo Jo' Hoo Kim from Channel One. His unique delivery, vocal skills and his ability to create comedic vocals laced with slackness, provided his audience with plenty to laugh about leading up to his 1981 hit 'Them A Mad Over Me'. An albino claiming to be a sex symbol was ridiculous within Jamaican society, but right from the start Yellowman asserted himself with his message: "It's not right to call Yellowman a fool"!
In 1982 Yellowman performed at Reggae Sunsplash establishing himself internationally. Not even his battle with cancer in 1986 held him back and he has since reaped the rewards of his talent, commitment, and courage rightfully earning his place as a reggae legend.