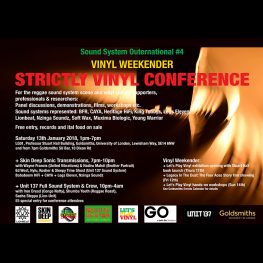 The Sound System Outernational crew present their fourth conference, this time in partnership with the Let's Play Vinyl touring exhibition, Skin Deep Magazine and us!
On Saturday 13th January they will be kicking off a whole day of talks, workshops, screenings, discussion, and performance about, by, and for the sound system community.
In the evening they are partnering up with Skin Deep Magazine and us to bring you performances and an earth-shaking dance in the Sound System Outernational tradition.
This is not to be missed!